You've landed in the perfect place to budget better, save smarter, and make money from home.
Connect with our community and gain special access to our free library of printables, templates, and courses!
[convertkit form=1268644]
2020 Budget Boss Binder Overview
[Sassy_Social_Share total_shares="ON"]
Do you struggle to organize your finances?
Is living paycheck to paycheck getting hella old?
I feel you.
So, here's the deal:
Some of the links in this post are "affiliate links."  This means if you click on the link and purchase the item, WSW will receive an affiliate commission.  Additionally, Who Says What is a member of the Amazon Affiliate Program.  Please review our Privacy Policy for more information.
Having a system to organize and track your finances is essential if you want to end the negative money cycle in your life.
Without a way to strategically plan your money moves, you are setting yourself up for a poor financial future.
And, let me guess:
A poor financial future is far from what you're dreaming of.
No, I know you.  Because you're like every other person on Earth:
You want to:
spend without limits,
pay your bills on time every month,
have leftover money for dream vacations,
stop the "I can't afford it" pity train.
The Budget Boss Binder will help you reach your ultimate money goals – and fast.
Let me show you how with this Budget Boss Binder overview.
What Is The Budget Boss Binder?
The Budget Boss Binder includes every printable you need to create your own budget planner (or budget binder).
The Budget Boss Planner Toolkit will help you:
create a budget
track your budget
stick to your budget
decrease expenses
pay off debt
save money (for emergencies, retirement, college, etc.)
complete no spend challenges
organize your finances
and all in all, master your money.
With over 40 budget printables, you'll never have to stress about money again.
Here's the deal:
The printables included in the Budget Boss Planner Toolkit have helped us create a budget that we've been successfully sticking to for 6+ years, pay off $15,000 in debt, and start saving for our dream home.
It's no exaggeration that you cannot be financially successful if you don't track your finances.
It simply doesn't work like that.
Bottom line?
To stop living paycheck to paycheck and afford your dream life, you need to organize and track your finances.
That's where the Budget Boss Binder comes in.
Who Is The Budget Boss Binder Made For?
The Budget Boss Binder is for those of you who give a f*ck about your financial future.
You see, as you've likely gathered, you aren't going to get rich by coincidence (well, not most of us anyway).
So, to make sure you will have a rich financial future, you need to be proactive and create a plan for your money.
The Budget Boss Binder makes preparing for a rich future possible – and super easy – by providing you with simple templates to manage your money.
Things like:
budgeting templates
spending trackers
debt repayment plans
savings guides
will make it simple for you to get (and stay) financially free.
What Is Included In The Budget Boss Binder?
Included in the Budget Boss Binder, you'll find over 40 budget + organizational printables:
Expense Organizer
Income Organizer
Financial Evaluation
Create-A-Budget Template
Bank Account Organizer
Financial Goals & Roadmap
Debt Payoff Goals & Roadmap
Savings Goals & Roadmap
Monthly Financial Review
Weekly Budget Plan
Bi-Weekly Budget Plan
Bill Pay Calendar (+ Monthly Financial Goals Tracker)
Bill Pay Checklist
Monthly Account Ledger
Daily Expense Tracker
Monthly Debt Payoff Tracker
Monthly Savings Tracker
No Spend Challenge Template
House Savings Tracker
Student Loan Debt Repayment Tracker
Lined & Dotted Notes Pages
3 Budget Planner Title Pages
12 Monthly Title Pages
Here's a run-down on how to use some of the printables included in the Budget Boss Binder.
Use your monthly expenses organizer at the start of each year to document your fixed and variable expenses.  This information is critical to setting up a successful budget.
Income Organizer + Financial Evaluation
At the start of each year, reevaluate your income from all sources in your household. Then, evaluate if you're spending within or beyond your means by doing some simple math.
Use the Create-A-Budget template to outline your budget for the year.  Decide how much money you can afford to put towards bills, miscellaneous spending, debt repayment, savings, and more.
Organize all your account information in one local place.  This template is also super helpful for automating your budget.
Financial Goals & Roadmap
Create long-term financial goals and plan out your action steps for success.
Debt Payoff Goals & Roadmap
Organize your debts and create debt repayment goals.  Then, plan out action steps to accomplish your debt repayment goals sooner.
Save money faster by outlining your savings goals and how you plan to accomplish those goals.
Review the upcoming month by outlining which bills are due, for how much, and when.  Also, outline your debt repayment and savings goals here.
Easily track your budget if you're paid weekly.
Easily track your budget if you're paid bi-weekly.
Bill Pay Calendar (+ Financial Goals Tracker)
Write down your bill due dates and track the financial goals you created at the beginning of the year.
Track your bill due dates, amounts, and whether or not they've been paid throughout the month.  Great for avoiding late fees!
Track your bill-pay account by monitoring how much money is coming in and going out.  Your ledger will help you stay on top of your account balance so you don't spend money that you do not have.  Also great for noticing funky account activity and/or planning for unexpected expenses.
Track your daily spending on miscellaneous items so you can recognize poor spending habits and stop them.
Monthly Debt Payoff Tracker
Track your debt payoff journey each month to become debt-free sooner rather than later.
Reach your savings goals quicker by tracking your progress each month.
No Spend Challenge Template
Have a successful no-spend month by using this fun template.
Use this house savings tracker to save for a down payment, home repairs, renovations, and more.
Student Loan Debt Repayment Tracker
Make getting rid of your student loan debt fun by using this tracker!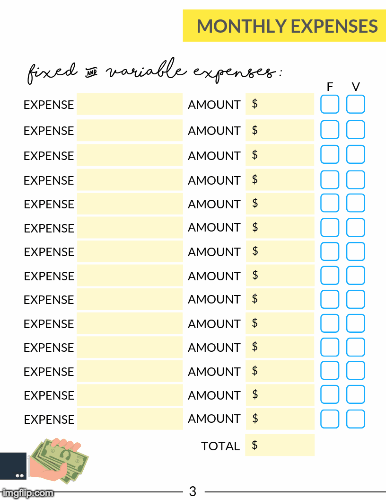 Along with containing every printable you'd ever need to create an epic budget binder, the Budget Boss Binder has some more exciting features.
The printables are undated, so you can use them forever
The toolkit is both printable and digital
The planner is updated yearly and sent directly to your inbox
The best part, though?
The Budget Boss Binder is currently on sale for only $9 (originally $27)!
Yep, you read that right.
For a one-time cost of only $9, you will have an updated yearly financial planner for the rest of your life.
So, how do you score this epic deal?
How To Access The Budget Boss Binder For Only $9
To download your Budget Boss Binder for only $9, follow these simple steps:
Checkout through our secure gateway
Check your inbox for an email from SendOwl containing your binder download
Oh, and then become a total budget boss!
How To Set Up Your Binder
To set up your budget binder, here's what you'll need:
Then, once you've printed out your Budget Boss Binder you can organize it in your binder, using the dividers to separate each month.
Easy peasy!
If you do not track your finances, it is very difficult to create a strong financial present and future.
The best way to create wealth and abundance in your life is to track your finances in a budget binder so you have complete control over your money.
Tracking your spending and organizing your finances in a budget binder will help you to:
create a budget that works (our has been going strong for 6+ years)
pay off debt
save money
and more.
See, isn't about time you stopped stressing about money??
Don't forget!
The Budget Boss Binder is on sale for $9 for just a few more days.
Make the smart money move by grabbing it now before it goes back up to $27! 
[Sassy_Social_Share total_shares="ON"]
P.S.  Was this post helpful?  Consider buying us a coffee to show your love <3
Father's Day is almost here, but how do you say "I love you?" Use these budget-friendly Father's Day gift ideas to rock his world without breaking the bank.
read more